Oct 7-9, 2022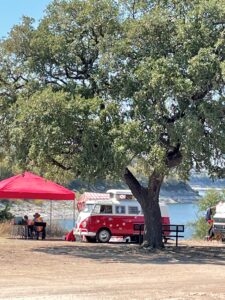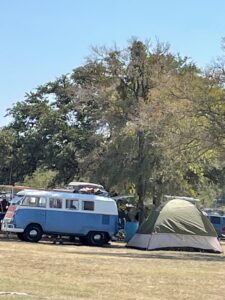 Oakmont Park, 99 Tanyard Rd
Morgan's Point Resort, TX 76513
Keep up to date on the event on Facebook
Come enjoy our Type II primitive campout* and Type II show benefiting the Police Department of
Morgan's Point Resort, Texas. Camping on a bluff overlooking Belton Lake, TX.
Friday night (1-5 PM): Campers donate breakfast items into the "Kitchen" coolers for our Saturday morning "Parrot and Flentge Memorial Breakfast"
Saturday morning: volunteers cook up donated items for our camp wide Parrot and Flentge Memorial Breakfast
8-9:30am – Parrott/Flentge Memorial Breakfast

11:00am – BusFest Best Dressed Pet Contest

1:00pm –BusFest Piñata!

2:00pm – Valve Cover Races weigh-in

2:30pm – Valve Cover Races

5:00pm – Camp dinner

7:00pm – Auction
Sunday morning: 
9:00am – Light breakfast: muffins, coffee, juice, etc.

10:00am – Raffle drawings followed by Awards

Following awards – line up for photos and good-byes until next year…………
Camping Registration:
Your $30.00 camp fee includes 2 tickets for Saturday dinner and FREE Type II show with judging throughout the weekend.
Please mail registration (check payable to Shirley Clark) to:
Shirley Clark
1000 Thompson Road
Weatherford, TX 76087
OR
Paypal: txvwbuslady@gmail.com
If you have any items to donate or you wish to sponsor our show, please contact Shirley Clark via email
txvwbuslady@gmail.com
*Primitive campout- facilities are port-a-potties and cold water shower wagon. Generators allowed; however, all personal generators are required to turn off at 10pm