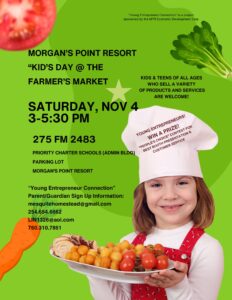 November 4, 2023- Kid's Day @ The MPR Farmer's Market
Time:  3:00 – 5:30 PM
Location: Parking Lot at the front of the Priority Charter Schools Admin Building
275 FM 2483, Morgan's Point Resort, Texas 76513
***Kids & Teens (17 and under) must be supervised by parents/guardians at all times.
On November 4, 2023 (3-5:30 pm), we will be highlighting our "young entrepreneurs" and offer kids and teens of all ages, an opportunity to showcase their product or service.  The MPR Farmer's Market will also be hosting a contest for customers to vote in a "People's Choice" contest.  Judging will be based on booth presentation and customer service.  Teens and Kids 17 and under must be supervised at all times by a parent or guardian.  Zero Vendor fee.   Deadline to sign up is October 30, 2023.
***To keep with the "Farmer's Market theme of "homegrown" products, we're asking that each vendor include at least one homemade item with the child(ren) largely participating in the making of the product (preferred, but not required)
kids MPR farmers market vendor intake form- Nov 4 2023
Questions?
mesquitehomestead@gmail.com   Phone:  254.654.6662 (Bernadette)
Lin1326@aol.com   Phone:  760.310.7861 (Linda)